Posted on OA and KVAL.com: 6 Jun 2015 — By Mark Floyd, OSU News & Communications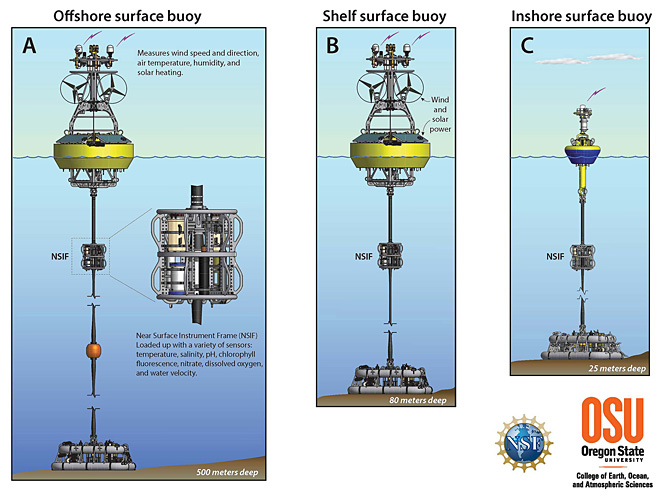 NEWPORT, Ore. – Oregon State University scientists this week will deploy a sophisticated research buoy and two undersea gliders, all fitted with a suite of oceanographic instruments – a final piece of the "Endurance Array," a major component of the National Science Foundation's $386 million Ocean Observatories Initiative.
 This major marine science infrastructure project was launched in 2009 to better monitor the world's oceans and the impacts of climate change. It is the largest single investment in ocean monitoring in United States history.
 The Endurance Array off the Pacific Northwest coast has become a focal point for scientists because of emerging issues including hypoxia and marine "dead zones," climate change impacts, subduction zone earthquakes, tsunamis, harmful algal blooms, wave energy potential, ocean acidification and dramatic variations in some upwelling-fed fisheries.
 "This observatory opens up a new type of window to the sea, with environmental data available in 'real time' to researchers, educators, policy makers and ocean users," said Ed Dever, a professor in OSU's College of Earth, Ocean, and Atmospheric Sciences and project manager for the Endurance Array. "In the short term, it will be a laboratory for the study of processes in one of the great coastal upwelling systems on our planet.
 "In the long term, the information it collects will allow us, our children, and our grandchildren to better understand the impacts of global climate change on the coastal ocean off Oregon and Washington."
The deployment this week of an inshore surface buoy about a mile off Nye Beach in Newport – in waters about 25 meters deep – is the third and final platform location in the array's "Newport Hydrographic Line."  The line includes a shelf surface buoy in 80 meters of water, about 10 miles off the coast; and an off-shore surface buoy in 500 meters of water, about 35 miles out.
 The in-shore surface buoy is designed to be battered by severe Pacific Ocean waves that hit the coast in winter, yet stay in place and continue making important measurements, noted Jack Barth, an OSU oceanographer who has been a lead scientist on the Ocean Observatories Initiative since the early planning stages more than a decade ago.
 "For the first time, the science community will be able to monitor and assess all components of the ocean simultaneously, from the physics to the biology to the chemistry," Barth said. "The OOI is not just about measuring the ocean in different ways – it is a way to understand how ocean processes affect things like plankton production and how that in turns fertilizes the marine food web, affects acidification, leads to harmful algal blooms, and affects oxygen in the water that may lead to dead zones."
The researchers say the proximity of the buoy to the coast is critical to understanding ocean wave and coastal river responses to winter storms.
 The buoy will have an impressive array of instruments – at the surface, on the seafloor where it is anchored, and attached to a cable running up and down the water column. Various sensors will measure water velocity, temperature, salinity, pH, light intensity, carbon dioxide, dissolved oxygen, nitrate, chlorophyll, backscatter (or the measure of particles in the water), light absorption – and even populations of zooplankton and fish.
 "This will provide an absolutely incredible amount of data," Barth said. "The biggest difference is that these instruments will be out there constantly monitoring the oceans. Before, we had to rely on shipboard data, which is very hit-and-miss. As we began to use undersea gliders, we picked up more information – but gliders are limited by their power supply, so you can only load so many instruments on them.
 "These buoys are game-changers," he added. "We will be able to better monitor emerging hypoxia threats, toxic plankton blooms and ocean acidification. Fishermen can match oceanographic data with catch records and look at how temperature, salinity and other factors may affect fishing. The possibilities are endless."
The other two buoys in the Newport Hydrographic Line will have a similar array of instruments. They will be paired with seafloor instruments that will be plugged into an underwater cable operated by the University of Washington. The cable will provide additional power for the instrumentation and high-bandwidth, two-way communications.
Oregon State also deployed a similar transect of three buoys off Grays Harbor, Wash. Together, the two east-west lines of buoys will give scientists an idea of what is happening in the ocean north and south of the influential Columbia River.
 "As conditions change, we will have the ability to add new sensors and address questions that we may not be considering right now," Dever said.
Undersea gliders represent another critical component of the Ocean Observatories Initiative. Oregon State will operate 12 gliders as part of the program, with six in the water patrolling the Northwest coast, and six more to rotate in after maintenance and reprogramming. Three gliders are operating now; two additional gliders will be deployed off Oregon this week, and a sixth glider off Washington later this month.
 "The Pacific Northwest coast is becoming one of the most closely monitored ocean regions in the world," Barth said.
Read this article on KVAL.com