September 2017
Contributed by Michael Milstein
A new study by NOAA Fisheries scientists has produced a detailed, searchable database of almost 3,000 species found in Puget Sound, and unravels some earlier assumptions about how vulnerable some species may be to ocean acidification.
The research published recently in the online journal Elementa finds that contrary to expectations, whether or not an organism builds a shell may not be the best indicator of whether a species is sensitive to ocean acidification. The research also found that how scientists summarize information on species sensitivity to ocean acidification can affect their very understanding of species vulnerability. This finding may put previous studies in new perspective, suggesting that some reviews may overestimate the sensitivity of species to ocean acidification, said Shallin Busch of the Northwest Fisheries Science Center and Ocean Acidification Program in Seattle and lead author of the new research.
Oceans absorb excess carbon dioxide produced by human activities from the atmosphere, and increase in acidity as their carbon dioxide levels increase. Ocean acidification is more pronounced along the Northwest Coast of the United States because of strong upwelling and other factors, both natural and human caused.
The research raises cautions about the assumption that shell-building organisms are more vulnerable to ocean acidification than others, Busch said. The assumption may overlook the sensitivity of species like sharks and fish that do not build shells but could be affected in other ways.
"You really have to look at the individual species' sensitivity to understand how acidification may affect it," Busch said. "Dissolving snail shells are an effect of acidification that's easy to understand, but more subtle changes to the development, physiology, or behavior of marine species like crabs and fish are really important, too."
As part of the study, Busch and fellow researcher Paul McElhany categorized almost 3,000 Puget Sound species based on their taxonomy and the type of crystal minerals they use to build their shells or skeletons. The details are included in a freely available, searchable online species database for Puget Sound. The database will be useful to other scientists as well as fishermen, divers and citizen scientists for everything from species identification to climate change studies.
"For hundreds of years, scientists have seen species catalogs as a foundation for studies of the natural history of an area," Busch said. "There is strong value in studying natural history from a number of perspectives."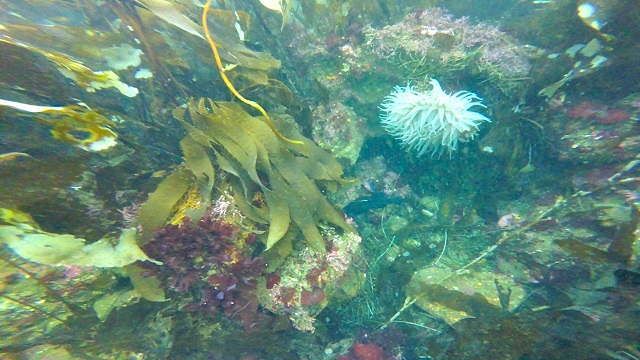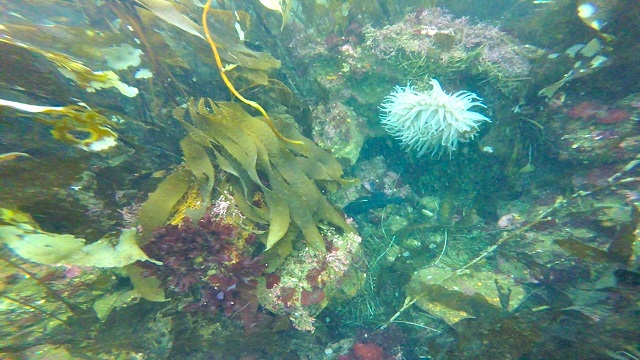 A new study catalogs nearly 3,000 Puget Sound species based on their vulnerability to ocean acidification, finding that even species that do not build shells may be at risk in other ways. Kelp forests are home to a diversity of species. Credit: Greg Williams/NWFSC
---
Originally posted: https://www.nwfsc.noaa.gov/news/
Research Article: https://www.elementascience.org/article/10.1525/elementa.245/