Posted on OA: 21 Jul 2015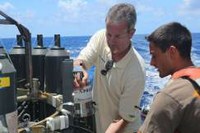 Photo credit: T. Traynor
New York (July 21, 2015) — XPRIZE (www.xprize.org) and Wendy Schmidt announced the winners of the $2M Wendy Schmidt Ocean Health XPRIZE, a global competition to incentivize breakthroughs in pH sensor technology to accurately and affordably measure the acidification of our oceans, in a ceremony co-hosted by Foreign Affairs. Sunburst Sensors, a team of chemists and engineers from Montana, took home both Grand Prizes, a $750,000 Accuracy Grand Prize (based on performance) and a $750,000 Affordability Grand Prize (based on cost and usability).
Sunburst Sensors, led by CEO James Beck, is a Missoula, Montana-based small business focused on the development of chemical sensors for marine and freshwater applications. Sunburst Sensors successfully iterated upon their previously developed commercial sensors to create two new breakthrough sensors: the i-SAMI ("i" for inexpensive) and the t-SAMI ("t" for titanium), which won the Affordability Prize and the Accuracy Prize, respectively.
Both of Sunburst's winning sensors utilize an autonomous spectrophotometric process of drawing in a sample of ocean water, mixing it with purified dyes, and shining a laser on the water to determine the pH level.  The i-SAMI has a projected per-unit manufacturing cost of under $1,000, with accuracy comparable to the best existing commercial sensor.  The t-SAMI demonstrated unprecedented accuracy – accuracy as good as a fully equipped professional laboratory – in both coastal and deep-sea environments up to 3,000 meters.
"The ocean is in the midst of a silent crisis as a result of increasing levels of CO2, with a direct impact on our climate, marine creatures, and on communities that rely on shellfish, fisheries and coral reefs," said Wendy Schmidt, president of The Schmidt Family Foundation and co-founder of The Schmidt Ocean Institute with her husband Eric. "Over the past two years, we have seen impassioned and dedicated teams from around the world compete to bring us much-needed tools to accurately and reliably measure ocean pH and catalyze our ability to respond to ocean acidification. I am delighted that the innovations coming out of this competition will meet the needs of scientists helping us to understand better how connected our life is to the health of the ocean."
The Second Place Prize in Affordability was awarded to ANB Sensors from Cambridge, England, and the Second Place Prize in Accuracy was awarded to Team DuraFET from Plymouth, Minnesota and Monterey Bay, California, each taking home $250,000.
"Once again, XPRIZE is humbled to witness what happens when a global community of innovators focuses their time and resources on solving a Grand Challenge," said Paul Bunje, senior director of oceans at XPRIZE. "We congratulate Sunburst Sensors, Team DuraFET, and ANB Sensors and look forward to supporting all of the teams that competed, many of whom represented real breakthroughs, with the commercialization of these sensors to get these in the hands of scientists, conservation groups, businesses and industry, and citizen scientists, to provide robust and actionable ocean health data."
To reach this point, the five finalist teams put their sensors through a three-month test in controlled laboratory conditions at the Monterey Bay Aquarium Research Institute, followed by a month-long performance test in a coastal environment at the Seattle Aquarium.  Most recently, each finalist team had a sensor that proceeded to a six-day deep-sea testing phase in which each was tested for accuracy and precision to 3,000 meters depth in the Pacific Ocean.
Read the full news release on OA.