Posted on The Spokesman Review: 20 May 2013 — By Donna Gordon Blankinship, Associated Press — Device set to be installed off Pacific Northwest coast this summer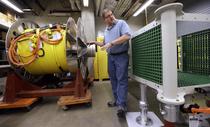 enior field engineer Larry Nielson talks about the 1,000-meter-long cable, left, that will be tethered to the frame at right as part of an underwater observatory being built at the University of Washington.
SEATTLE – Scientists are eager for access to information from a quarter-billion-dollar lab at the bottom of the Pacific Ocean that they hope will teach them about climate change, earthquakes and even the origins of life on Earth and other planets.
The $239 million National Science Foundation project will install video cameras, seismic monitors and other gauges along a volcano in deep waters off the Pacific Northwest coast, giving researchers the ability to monitor activity 2 miles below the ocean surface.
The project could potentially warn of earthquakes that would threaten the Seattle area, according to scientists.
"It really will make a huge difference," said University of Washington oceanography professor John Delaney, who is leading the effort.
Thanks to nearly 600 miles of electrical wires and Internet cables, this project will provide continuous information, separating it from other efforts. Oceanographers have dropped information-collecting devices into the ocean before, but those devices were battery-powered and only able to record a snapshot of data. They also have used satellite images to study the oceans, but they haven't provided information much below the surface.The potential topics of exploration off the Oregon and Washington coast include earthquakes, volcanoes, animal migration, climate change, ocean acidification and exotic microbes. It also will prepare researchers to study oceans on other worlds, Delaney said.
The lab ensures exploration will no longer be limited by time or bandwidth and multiple research projects can be conducted at the same time, he said.
Project leaders expect challenges.
"I'm assuming it's not all going to work," said Gary Harkins, chief engineer in UW's Applied Physics Laboratory. "We've put 4 1/2 years into the design and construction. I'm sure we'll spend the next 20 years trying to improve what we've done."
Harkins expects they're all going to learn a lot this summer, when they take the components out into the ocean to be installed, an operation that is expected to start by the beginning of July.
One issue involves dealing with the water itself. "Corrosion is one of the main enemies down there," Harkins said. He said some equipment they have been testing is made out of airplane-grade titanium, which is particularly durable.
Scientists will turn on 40 sensors, of 13 different types, over the summer, and add dozens more next summer. The lab is expected to be fully operational by early 2015.
The sensors and cameras will be placed along two cables. One stretches out 310 miles to cross the Juan de Fuca plate and reach underwater volcanoes and tectonic activity at Axial Seamount. Another goes in a loop about 75 miles offshore but will include instruments in shallower waters.
The observatory will span the Juan de Fuca tectonic plate. It's part of the national Ocean Observatories Initiative, and has grown out of a more than 20-year quest to improve knowledge of the oceans and share data among scientists and the public.
Several universities are contributing. A team from the University of Washington is building and installing the lab. The University of California at San Diego is establishing the online infrastructure. Oregon State University will help build the lab and set up land components at Pacific City, Ore. Rutgers University, the University of Maine and the Raytheon company are working on education and public engagement.
Read the rest of the story on Spokesman.com