Posted on Science Insider by David Malakoff on 27 November 2012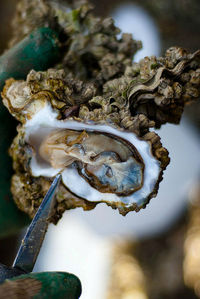 Sensitive. Washington shellfish growers say ocean acidification threatens their lucrative industry, which is built on species such as this Pacific oyster. Credit: Photo courtesy of Daniel Bennett/Blue Ribbon Commission on Ocean Acidification
In the first state-level action of its kind, the governor of Washington today announced that her state will try to protect valuable shellfish industries and marine life from ocean acidification. Responding to a report that she requested, Governor Chris Gregoire said she has directed state agencies to take steps to reduce the pollutants that contribute to acidification. She also plans to ask the state legislature to establish a new acidification research center at the University of Washington (UW), Seattle.
"A healthy ocean is critical to our health and our coastal economies," Gregoire said today at a Seattle event marking the release of the report by the Blue Ribbon Panel on Ocean Acidification. Gregoire created the panel earlier this year to examine the implications of dropping pH levels in seawater, a trend caused by the ocean's absorption of carbon dioxide from the atmosphere.
Researchers estimate that rising carbon emissions have increased the ocean's acidity by 30% since preindustrial times, threatening some fish and shell-growing creatures. The issue became particularly important in 2007, when the state's lucrative shellfish industry realized that increasingly acidic coastal waters were killing billions of farmed clam and oyster larvae. Researchers say that Washington's problems—the result of both global patterns and more local problems related to air pollutants and contaminated storm runoff—are a harbinger of what the rest of the world can expect as acidification increases.
"Washington State will need to respond vigorously to ocean acidification if we are going to avoid significant and possibly irreversible losses," concluded the report from the Blue Ribbon Panel, which was co-chaired by former U.S. Environmental Protection Agency (EPA) chief William Ruckelshaus. It includes 42 recommendations for state action, including calls for stronger regulation of carbon emissions and other land-based pollutants that contribute to acidification.
Those ideas are likely to be unpopular with the state's agricultural and industrial interests. The report acknowledged that "[t]he cost of responding to ocean acidification may be substantial," but noted that it is "still far less than the costs of inaction."
Read the rest of this story on Science Insider