Hog Island Oyster Farm hosts tour to discuss challenges of growing oysters in a high CO2 world
Oyster growers Terry Sawyer and John Finger, owners of Hog Island Oyster Farm, promoted their partnership as members of the California Current Acidification Network (C-CAN),  by hosting a tour of their operation at Marshall, on Tomales Bay in northern CA,  for the media and shellfish afficionados.  The tour took place on November 13 and was well attended by foodies and food writers alike.  The Sustainable Fisheries Partnership, Brad Warren and Amy Grondin, coordinated the event, with assistance from Dianne Saenz, Climate Nexus.
Media invitations noted " …scientific research has revealed that our coastal states are on the frontline of changing ocean chemistry and a potential, near-term catastrophe for species that we depend on for food, jobs and state revenue. Accelerating acidification of seawater is creating big challenges for ocean health and shellfish operations. Many people are working hard to identify the causes of this change and how we might successfully monitor and adapt to it. … This tour is a great opportunity to learn more about oyster production and the range of risks posed by ocean acidification for West coast oyster farmers. Dr. Hill is an expert researcher on acidification, who works at the Bodega Bay laboratory. The tour will include an oyster tasting –"
Dr. Tessa Hill, from Bodega Bay Marine Lab, participated in the event to discuss the partnership between the Bodega Bay Ocean Acidification Group (BOAR) and Hog Island to monitor ocean chemistry in Tomales Bay.   Dr. Hill met Terry Sawyer at a C-CAN workshop and agreed to cooperate to provide continuous information on OA fluctuations in Tomales Bay, which will help Hog Island better manage their production and also provide helpful information to assess impacts on the marine environment.
Photo highlights: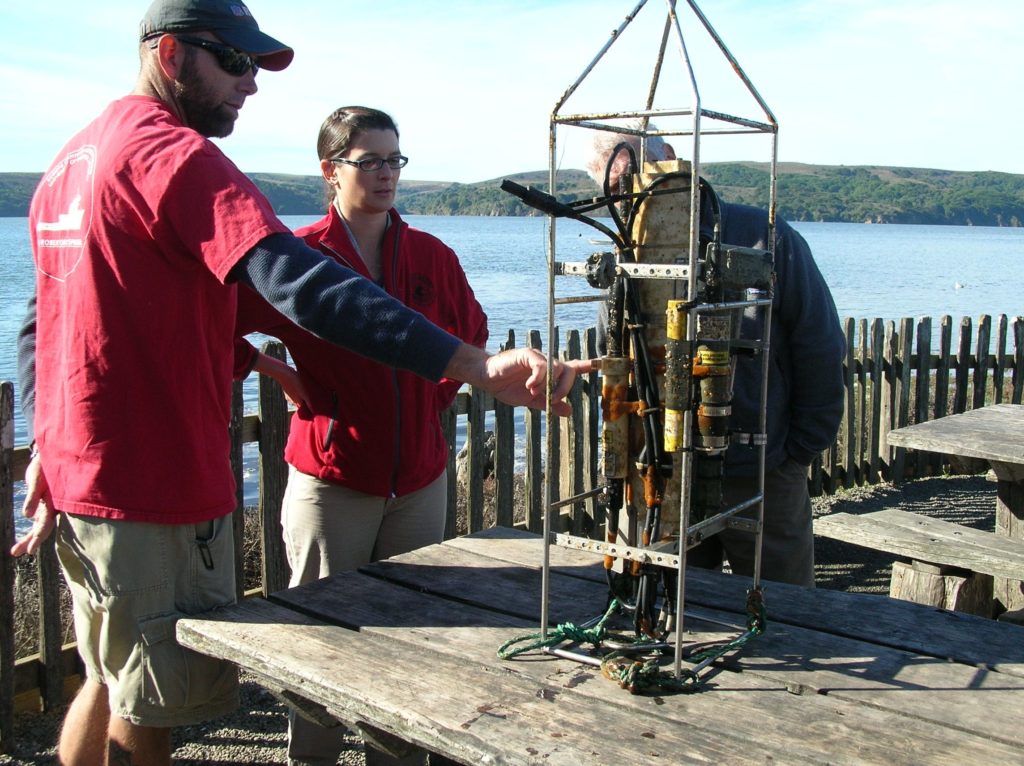 Dr. Tesse Hill examines a SeaFET data logger system that BOAR deployed near the Hog Island water intake in Tomales Bay.  The system continuoously measures ocean chemistry, including pH, water temperature and dissolved oxygen.  The unit is recovered monthly for cleaning and calibration, and to download information.
Future plans include running a cable directly to the Hog Island computer onshore so employees and researchers can monitor ocean chemistry in real time.
Terry Sawyer, Hog Island co-owner, discusses the challenges faced by oyster growers on the west coast, where oyster hatcheries are facing serious recruitment problems caused by increasing ocean acidification.  Hatcheries in the Pacific Northwest have ialready installed CO2 monitoring systems  to monitor water quality.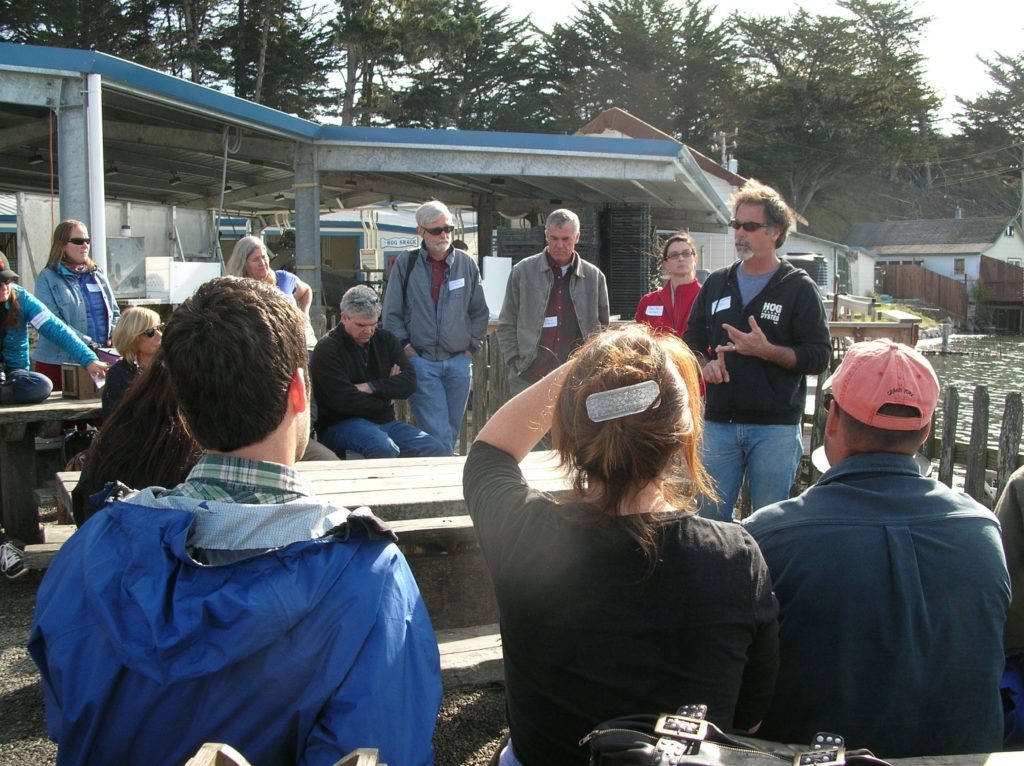 Dr. Tessa Hill explains the importance of routine maintenance, including calibration of sensitive ocean acidification monitoring equipment.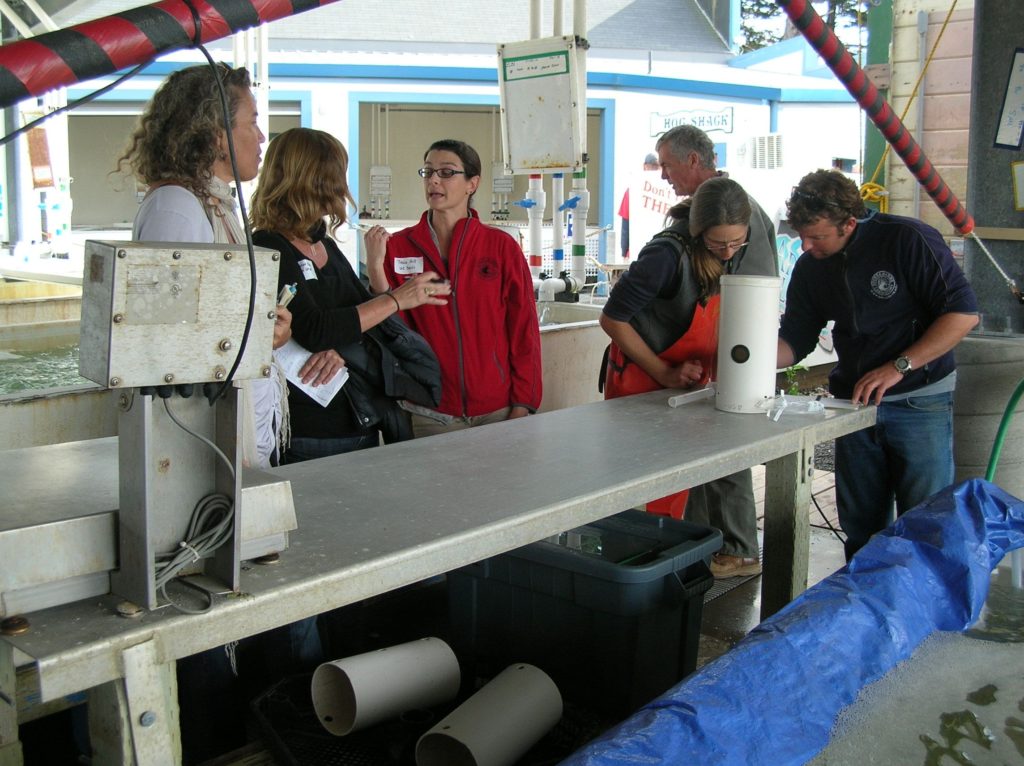 Following the tour of the Hog Island facility and a Q&A session, the group enjoyed a taste of the product — fresh oysters!