Posted on Crosscut.com: 24 Jul 2012 — By John Stang — A panel is looking at how to respond to a new threat to the state's shellfish.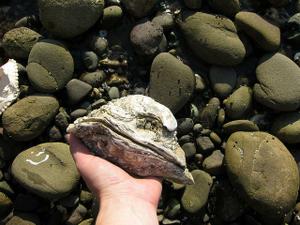 Hstender/Flickr A large oyster at Dabob Bay.
 A big question mark stands over Washington's efforts to deal with ocean acidification is money: How much will be needed and where it will come from?
A state panel, the first of its kind in the nation, discussed a wide range of draft recommendations Friday (July 20) at the University of Washington. Gov. Chris Gregoire appointed the panel —a collection of scientists, shellfish industry officials, and federal and state government representatives — to recommend how Washington can tackle ocean acidification along its coasts. This is the first state effort of its kind in the nation.
Because of the rising levels of acidity, tiny oyster shells in Washington's Dabob Bay and in Oregon's Netarts Bay are crumbling faster than they can grow back. A drop on the water's pH is being pinpointed as the culprit for endangering the Northwest's $270 million shellfish industry.
PH measures the acidity or alkalinity of a fluid on a 14-point scale. The lower the number, the more acidic the liquid is. Distilled water is considered "neutral"; sea water is normally 8.1 to 8.2, which is on the alkaline side. Orange juice's pH is 3; battery acid's pH is close to a one. Shellfish survives in a narrow pH spectrum. At 100 feet deep, some Dabob Bay water has sometimes been measured at a pH of 7.5.
Gregoire's  panel is scheduled to present its fix-it recommendations to her on Oct. 1. Those recommendations will be general ones with plenty of details that will have to be later hashed out.
That includes beginning to get a handle on the funding needs, but probably not in detail, said Jay Manning and Bill Ruckelhaus, the panel's chairmen. Manning is Gregoire's former chief of staff. Ruckelhaus was the federal Environmental Protetcion Agency's first chief in 1970 and is advisory board chairman of The William D. Ruckelshaus Center at the University of Washington and Washington State University. (Disclosure: Ruckelshaus is also a member of Crosscut's board.)
"We'll probably have qualitative discussions about our best guesses to the costs," Manning said.
Read the rest of the story on Crosscut.com