Posted on Summit Voice December 5, 2011 by Bob Berwyn — Annual report card highlights ice loss, ecosystem changes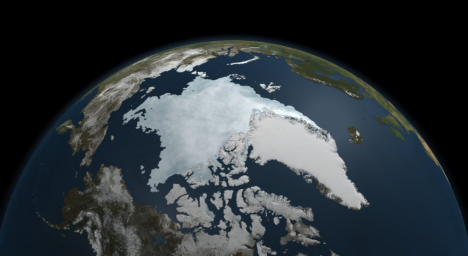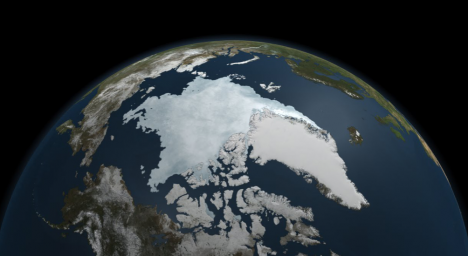 A composite cloud-free NASA satellite image shows open ocean around Arctic ice cap.
 By Summit Voice
SUMMIT COUNTY — Arctic researchers say the persistent decline in the thickness and summer extent of sea ice and a warmer and fresher upper ocean are some of the key signs of  profound and continuing changes in the Arctic Ocean system.
With more open water in the region, biological productivity at the base of the marine food chain has increased, while sea ice-dependent marine mammals like polar bears and walruses continue to lose habitat. Warmer land temperatures resulted in greener tundra vegetation in where adjacent sea ice has declined the most, according to the annual Arctic report card update for 2011.
The report suggests that the record-setting changes are likely to continue in the coming years, with, with increasing climatic, biological and social impacts.
Another sign of the long-term shifts is the repeated occurrence of 2010 Arctic winter wind patterns that mark a departure from the norm. These changes resulted in higher than normal temperatures in the Arctic, with record ice sheet mass loss, record low late spring snow cover in Eurasia, shorter lake ice duration, and unusually lower temperatures and snow storms in some low latitude regions. A potential indicator of recent atmospheric changes was record low ozone concentration in March 2011.