Posted on Space Ref Tuesday, September 20, 2011 — Call for Research Submissions Based on Near Real-Time Ocean Data Gathered During Unprecedented Robotic Journey Across the Pacific Ocean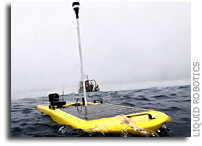 Liquid Robotics(R), an ocean data services provider and developer of the first wave-powered Wave Glider(R) marine robot, today announced its Pacific Crossing (PacX) Challenge open to scientists around the world. During the PacX Challenge, four Wave Gliders will launch in the fall of 2011 off the coast of Northern California and attempt to travel the longest distance at sea by an unmanned marine vehicle. The robots will travel together to Hawaii and then take separate routes across the Pacific, one pair arriving in Japan and the other in Australia. While at sea, the Wave Gliders will be routed across regions never before remotely surveyed and will continuously transmit valuable data on salinity and water temperature, waves, weather, fluorescence, and dissolved oxygen. This data will be made available in near real-time to anyone interested and who registers on www.liquidr.com/pacx .
"Liquid Robotics invites scientists to embark on a grand challenge journey with us as we cross the Pacific on a voyage of scientific discovery," said Ed Lu, chief of innovative applications at Liquid Robotics. "These Wave Gliders are much like small 'spacecraft' that open up new opportunities for robotic exploration. I challenge all scientists who are interested in advancing ocean exploration to take advantage of this unique opportunity. What scientific questions can we address with this new and unique data set?"
Those who wish to compete for the PacX Challenge prize are required to submit a one-page research abstract outlining their scientific intentions for the data collected during the Pacific crossing. The required one-page research abstract and PacX Challenge guidelines can be found on www.liquidr.com/pacx .
A distinguished science board of U.S. and international ocean scientists will evaluate the submissions and select one grand prize winner who best represents the daring spirit of exploration and discovery embodied by this journey. The grand prize winner will receive six months of free Wave Glider data services and will work with Liquid Robotics to chart the course and mission for the six month deployment, including sensor configuration. The PacX Wave Gliders will be equipped with a wide array of sensors including:
— Seabird GPCTD with Dissolved Oxygen Sensor – measures water conductivity, temperature, depth, and dissolved oxygen just below the float of the Wave Glider.
— Datawell MOSE-G Directional Wave Sensor – measures significant wave height, average period, peak period, and peak direction.
— Airmar PB200 WeatherStation – measures air temperature, barometric pressure, wind speed, wind gust speed, and wind direction one meter above the deck of the Wave Glider.
— Turner Designs C3 Submersible Fluorometer – measures chlorophyll-A and crude oil fluorescence, as well as turbidity and water temperature just below the float of the Wave Glider.
Leading oceanographic organizations planning to use the data gathered during the Pacific Crossing include Scripps Institution of Oceanography, Woods Hole Oceanographic Institution, and the Monterey Naval Post Graduate School.
About the Wave Glider The Wave Glider is the first marine robot to use only the ocean's endless supply of wave energy for propulsion (no manpower, no emissions, no refueling). The Wave Glider employs a multi-patented design that allows it to cost-effectively collect and transmit data gathered during year-long missions, over distances of thousands of miles, or while holding station. Data gathered by Wave Gliders will help us address the biggest challenges our marine environments face — including ocean acidification, fisheries management, and natural disaster mitigation.
About Liquid Robotics Liquid Robotics, Inc. is an ocean data services provider and developer of the Wave Glider marine robot that functions as a persistent and versatile platform for scientific and industrial payloads. Based in Silicon Valley and Hawaii, the company's Wave Glider vehicle enables dozens of applications and missions never before attainable. For more information, visit www.liquidr.com .
See the Space Ref post for more information.