By SAM SCOTT, THE PRESS DEMOCRAT — Published: Wednesday, September 7, 2011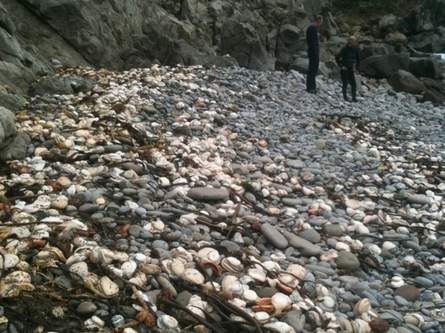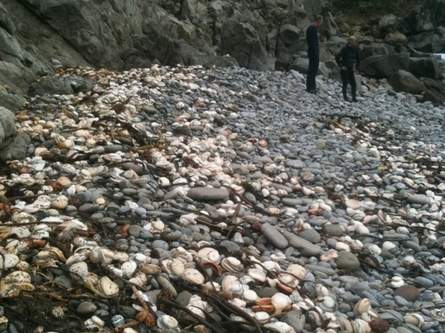 Dead abalone washed up onshore in Fort Ross Cove over Labor Day weekend, part of one of the worst red tides in years. Nate Buck photo.
 A recent explosion of plankton off the Sonoma Coast has turned lethal for abalone and other shellfish.
White meat from the prized sea snails has been washing up on area beaches for more than a week, sending wafts of rotting flesh over bluffs, and dismaying those who consider themselves stewards of the ocean.
"It's like going up to an old growth forest and then coming back and it's been clear cut," said Matt Mattison, an abalone diver from Monte Rio, who was stunned by the extent of the die-off near Fort Ross on Monday. "In 28 years of diving up here, I have never seen anything like this."
State scientists say the destruction appears to be the result of a plankton bloom that began toward the end of August and is now dissipating.
Such red tides are common occurrences, named for the rusty, murky tinge they give the water. The blooms feed on periodic upwellings of nutrient-rich cold water from the ocean's depths.
Generally, the blooms pass without major harm to abalone. But the most recent red tide stuck during a stretch of unusually calm ocean conditions, which kept the plankton densely packed, said Ian Taniguchi, senior biologist with the California Department of Fish and Game
Scientists are awaiting lab results to see if toxins from the concentrated plankton poisoned the abalone as well as the urchins, chitins, sea stars and other animals that have been washing up in unusual numbers.
Alternatively, the abundance of plankton may have consumed the oxygen around the animals, suffocating them, Taniguchi said. The calm ocean conditions likely added to the problem by minimizing the churn that oxygenates the water, he said.
Either way, this has been the deadliest red tide for state abalone in at least three decades, Taniguchi said, though no precise tally is available. Deaths have been observed from Bodega Bay to Point Arena with most reports from between Salt Point and Fort Ross, he said.
Read the rest of the Santa Rosa Press Democrat story here.