BY ONEARTH, 18 AUG 2011 — This OnEarth column was written by Eric Scigliano.
In the summer of 2007, something strange and troubling happened at the Whiskey Creek Shellfish Hatchery on Netarts Bay in Oregon, which raises oyster larvae for shellfish growers from Mexico to Canada. The hatchery's "seed," as the oyster larvae are called, began dying by the millions, for no apparent reason.
Disease isn't uncommon in a hatchery's tanks, but that same year, up the coast in Washington, wild oyster larvae also failed in Willapa Bay, which has been the heart of the Pacific Northwest's oyster industry since the 1850s.
The Willapa Bay growers scrambled to replace their natural beds with farm-raised seed from Whiskey Creek and other hatcheries. But there was very little of it to buy. Washington state's Taylor Shellfish Farms, the Pacific Coast's largest grower, also lost most of its larvae that year.
The situation was dire. Whiskey Creek and Taylor are key links in the nation's seafood supply chain. They and another Washington hatchery provide nearly all the seed for the West Coast's growers, who in turn produce more than a quarter of the 700 million or so farmed oysters that Americans slurp down every year.
Suddenly, it seemed, seafood lovers might have to do without their slippery delicacies, or at least pay a lot more for them. Growers on the Gulf and Atlantic coasts wondered if whatever was striking the Pacific hatcheries might soon hit them. And when the culprit was finally revealed, it provided the first example of how a worldwide crisis in ocean chemistry could devastate coastal economies and change restaurant menus across the country.
Whiskey Creek is owned by the husband-and-wife team of Sue Cudd and Mark Wiegardt. Wiegardt grew up tending oysters on Willapa Bay, where his family has been farming them since the late 1800s. Cudd, a fisheries biologist, got a job at the Wiegardt operation in 1984 and married Mark in 1989. She began managing the 33-year-old Whiskey Creek Hatchery in the mid-90s, and the couple took over the business together in 2002.
At the sprawling, barn-like warren about two hours west of Portland, where cylindrical plastic tanks serve as incubators for shellfish larvae and algae, a big part of their job is to keep vigilant watch for infections. When the 2007 crisis hit, Cudd and Wiegardt set about solving it according to standard industry practice: by looking for whatever pathogen might be making their "babies" sick.
Read the rest of the story on The Grist.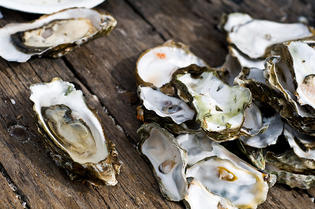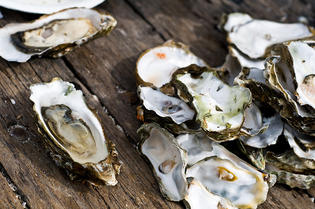 Photo by Min Lee